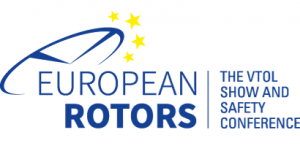 EUROPEAN ROTORS 2022 extends Early Bird pricing to Friday, Oct. 7.
EUROPEAN ROTORS 2022, in Cologne from 8 to 10 November 2022, is set to be a significantly larger conference and exhibition than its first run in 2021. As part of this expansion, the organizers are keen to give visitors the very best opportunities for everyone in the industry to attend and thus are extending Early Bird registration prices to Friday, 7 October.
Tickets can be purchased at https://www.europeanrotors.eu/en/ticket.
EUROPEAN ROTORS hosts every major industry OEM and provides visitors with the opportunity to see the latest offerings from over 200 exhibitors as well as network with 4,000-plus attendees from more than 60 countries.
Three parallel stages with silent conferencing in the exhibition hall will provide visitors with updates on a wide range of topics across the global VTOL industry, as well as offer insight into the industry's contribution to European society.
The EASA Rotorcraft and VTOL Symposium, the renowned flagship of EUROPEAN ROTORS' unique educational programme, is also significantly enlarged this year, featuring Training Day (Monday, 7 November) and Career Day (Wednesday, 9 November) plus workshops and customer briefings.
About EUROPEAN ROTORS
The EUROPEAN ROTORS VTOL Show and Safety Conference brings together every aspect of the rotorcraft industry in Europe. The event sees the European Helicopter Association (EHA), the European Union Aviation Safety Agency (EASA) partnering to bring the helicopter industry the most substantial trade event outside the United States. EUROPEAN ROTORS is the go-to event for suppliers of helicopters, parts, services, and every other aspect of the VTOL industry.
For more information, visit europeanrotors.eu.