HAI is now offering a series of weekly webinars covering a wide range of topics to meet the rotorcraft community's needs in this rapidly changing era.
The series, HAI@Work, began in April and covers both current and evergreen topics. While the first three webinars focused on subjects related to the COVID-19 pandemic, future sessions will address various matters of interest to industry businesses and individuals.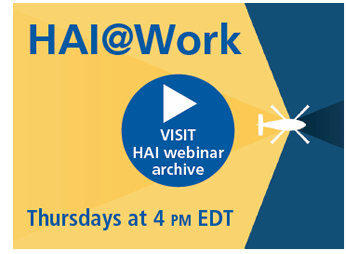 Each webinar features a panel of subject-matter experts, including HAI staff members and other industry representatives. In the hour-long format, panel members discuss the week's topic before taking viewers' questions.
HAI launched the initiative to provide members with up-to-the-minute resources and information during this period of economic and social disruption.
"The worldwide economic slowdown is impacting the rotorcraft community. Flight activity is down, and government agency personnel are working remotely," says HAI president and CEO James A. Viola. "We know our members need current information on the financial resources and regulatory programs available to help individuals and businesses cope. Getting information straight from the experts, and taking questions in real time, is a resource HAI can provide our industry when it needs it most.
"We knew that information specific to the rotorcraft community was available, but it was spread out," adds Viola. "Many of our members run small businesses, and some have operations in one country but work globally. Why not bring the information to them so that they don't have to search for it?"
Webinar topics so far have included the HAI members-only resources available on rotor.org, regulatory issues, government financial assistance programs, and employment. Future webinars will address other industry-relevant topics, and participants are encouraged to submit subjects or questions they'd like HAI to address.
HAI@Work webinars take place at 4 pm EDT (UTC-4) every Thursday, although some rescheduling may become necessary to accommodate the schedules of the speakers. Videos of the webinars are available shortly after broadcast on the HAI YouTube page.
Weekly announcements about upcoming topics, including the web address for that week's webinar, are available on HAI's Facebook, Instagram, LinkedIn, and Twitter social media channels.