Longtime operator offers executive, cargo, agricultural, tour, and other services.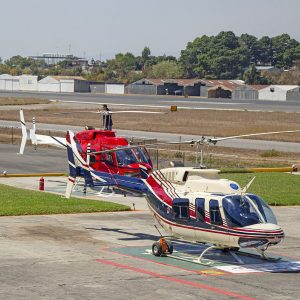 While flying in an airplane in the 1960s, Guatemalan businessman Héctor Simón Morataya Morales, who would later become the first licensed rotary-wing pilot in Guatemala, dreamed of flying helicopters so he could land in places unreachable by fixed-wing aircraft. His dream materialized in 1969 when he founded Helicópteros de Guatemala, S.A. (HDG), which began as an aerial spraying company.
In the years since, the company has become the largest helicopter operator in the region, with its own fleet of multimission Bell 206B-3 and Bell LongRangers and more than 150,000 flight hours.
Company Brands
HDG advertises its business under several brands:
Helibiz, an executive helicopter transfer service for entrepreneurs, professionals, corporations, and national and foreign institutions.
Helirescue, which operates a fleet of air ambulance helicopters configured and equipped to the specifications of the Guatemalan Ministry of Public Health and Welfare. These aircraft are used to transport patients to and from hospitals, rehabilitation centers, specialized-care facilities, and private residences. Flight doctors and paramedics fly in the aircraft, each trained in critical and intensive care.
Helicargo provides internal- and sling-load cargo services in both urban and rural locations.
Heliagro, which supports agricultural spraying using agricultural GPS measuring equipment and solid or liquid flow-control systems. The first division of HDG, Heliagro started with a Bell 47 spraying corn and sesame crops and has evolved with customer demand and technological advances.
Helitour provides tours throughout Guatemala to some of the country's most popular areas, including Guatemala City, Tikal, Flores, Panajachel, and Antigua. Popular spots include sacred Mayan temples, archeological sites, nature reserves, and volcanoes.
FBO and Other Services
HDG operates an executive fixed-base operator (FBO) at Guatemala's La Aurora International Airport (MGGT), or Aeropuerto Internacional La Aurora. Its offerings include boardrooms, Wi-Fi, a VIP cafeteria, and meeting rooms, with many rooms overlooking the ramp or through windows and glass doors into the hangar.
The company holds air operator, external cargo, and agricultural aeronautics certificates from the DGAC (Dirección General de Aeronáutica Civil) of Guatemala. In 2015, HDG became the first Latin American helicopter operator to achieve International Standard for Business Aircraft Operations (IS-BAO) recognition for operational safety standards.
HDG is serious about giving back to the community. The operator supports the Manuel and Concha Ralda Foundation and the DAR La Trinidad project, which helps families in Guatemala by focusing on education, health, nutrition, and community development in the most poverty-stricken regions of the country. Each year, the company holds a golf tournament that raises funds for both charitable organizations.