A look at an HAI member up close and personal.
Founded in 1966, Peening Technologies has grown from a single-location vapor blasting shop to a sophisticated group of companies dedicated to providing a full range of shot peening services. In addition to shot peening, the company, which comprises Peening Technologies of Connecticut, Peening Technologies of Connecticut MRO, Peening Technologies of Georgia, and Peening Technologies Equipment Co., based in East Hartford, Connecticut, offers abrasive blasting and surface-enhancement shop services to the aerospace, automotive, power generation, wind turbine generator, medical, and oil-and-gas exploration industries.
Shot Peening
Peening Technologies specializes in shot peening components made of titanium, aluminum, and steel. Shot peening is a cold-water process whereby a part surface is exposed to a spray or blast of round shot to increase the part's fatigue life. Fatigue failures usually begin on the surface of a part; shot peening makes tiny dents or curves in the surface of the metal to create a layer of compressive stress, which delays the creation and growth of fatigue cracks. In some instances, peening can increase the fatigue life of a part 2,000% or more, according to the company.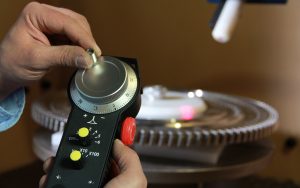 Peening Technologies is the industry's first shot peening facility accredited by the National Aerospace and Defense Contractors Accreditation Program, according to the company. Peening Technologies uses sophisticated, heavily automated equipment ranging from CNC (computer numerical control) multi-axis robotic machines for specialty work, such as turbine hubs, to indexing machines for volume work on components such as blades and vanes. Many of the machines operate to computer-controlled specifications AMS2432, GE P11TF8, and PWA-36930.
Vapor Blasting and Vibratory Finishing
In addition to shot and bead peening, Peening Technologies also performs vapor blasting, a nonaggressive surface-prep technique specifically developed for applications requiring fine finishes. Combining a thin film of water with fine blasting media, this technique can remove dirt, contaminants, rust, corrosion, and old paint from a wide range of surfaces.
Peening's vibratory finishing services are designed to improve the surface finish of components after they're shot peened. Vibratory, or mass-media, finishing is typically performed on turbine blades to remove unwanted burrs, smooth sharp edges, and provide a polished finish.
Other company services include abrasive grit blasting, plastic bead blasting, media finishing, and nondestructive testing. Peening offers a wide range of services in-house as well as at the customer's facilities.
Shot Peening Equipment
Peening Technologies' equipment arm, Peening Technologies Equipment Co., builds state-of-the-art, affordable, computer-controlled shot peening equipment for companies that want to perform their own peening services. Peening's machines are designed to be cost-effective, streamlined, and easy to use.
Peening Technologies Equipment also offers customers complete process-development services, which include tooling design and development, machine programming, process qualification (Almen strip testing), and process sheet documentation.