Safety auditor, trainer prides itself on rotorcraft-centric focus.
Utilities / Aviation Specialists of Crown Point, Indiana, began in 1985 as an aviation consulting firm. Its president, Robert Feerst, a rated helicopter and airplane pilot with extensive helicopter operator and pilot experience, founded the company to help helicopter operators develop safer, more efficient, and profitable businesses.
Today, in addition to technical aviation consulting services, Utilities / Aviation Specialists provides safety auditing, low-level flying-in-the-wire-environment training, and power-line project safety management to industries that employ helicopters in their daily operations.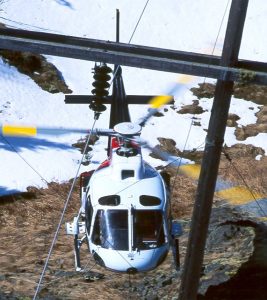 Specialized Safety Audits
Shortly after its inception, Utilities / Aviation Specialists began offering safety audits for the global rotor- and fixed-wing aircraft industries. The company specializes in audits for the gas and electric utilities, offshore oil, aerial construction/line maintenance, and personnel transport sectors.
Early on, Feerst says, most auditors and audit companies maintained a fixed-wing and mostly airline focus; few were skilled in helicopter operations.
"Helicopters and airplanes are similar in that they both fly," Feerst is fond of saying. "That's where the similarities end. Yet, auditors would come in and [apply] airline solutions and standards to helicopter operators that simply didn't work."
Utilities / Aviation Specialists also took a different tack from most auditors of the time: instead of going into a company looking to catch mistakes, it approached auditing as an opportunity to help companies improve.
"We go to every audit with the attitude that this is a good, safe company and we're here to see if we can find any way to make them safer, more efficient, and more profitable," Feerst says. "We developed quite a reputation over the years to where, now, we even have companies hiring us that are fairly young and haven't been required to have audits. They're hiring us to help them improve."
Utilities / Aviation Specialists employs professional utility-industry pilots, safety specialists, and the like, matching auditors to the mission profile of the company being audited.
Flying in the Wire Environment
In the mid 1980s, the FAA turned the spotlight on helicopter wire-strike accidents, particularly in the helicopter air ambulance (HAA) sector. At the time, 40% of HAA accidents involved wire strikes. What happened next catapulted the company's business.
"The FAA told HAI's president at the time, Frank L. Jensen Jr., that if HAI didn't do something about wire-strike accidents, they would," Feerst recalls. "[Frank] knew I'd been training pilots and crews in how to fly in the wire environment for NIPSCO [Northern Indiana Public Service Co.] and a few other companies and asked if I could put something together to take to the industry."
Utilities / Aviation Specialists developed a flying-in-the-wire-environment program that has been a pillar at HAI HELI-EXPO® for many years. The company also puts on the program all over the world and last year launched an online version that has already had more than 1,000 participants.