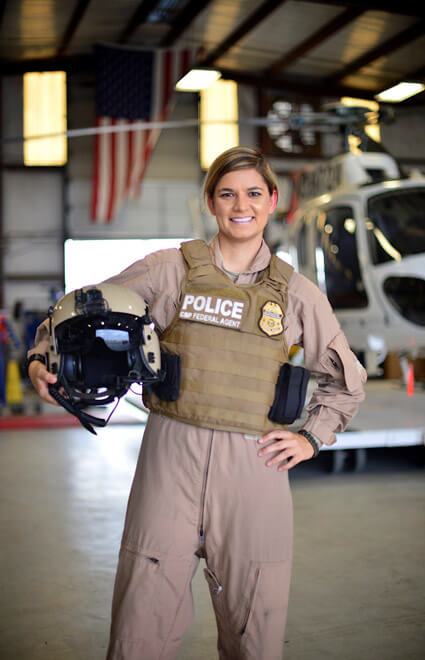 Lisa Rezende
Edinburg, Texas, USA
Quick Facts
First aviation job: Working for Air Florida Helicopter in Orlando, Florida
Current job: Air interdiction agent for US Customs and Border Protection
Favorite helicopter: Sikorsky UH-60 Black Hawk
Your current position?
I am a dual-rated pilot currently working as an air interdiction agent for US Customs and Border Protection and flying the Eurocopter AS350. Our mission is to be guardians of our nation's border and to safeguard the American homeland, both at and beyond the border.
How did you get to where you are now?
When I was working for Air Florida Helicopters in Orlando, Florida, one of the pilots who worked there was a contractor for a military training program based out of Titusville, Florida. He saw me working about five different jobs at the same time to pay for my fixed-wing training.
As I completed my advanced ground certificate, he offered me a job to train Air Force pilots. He became my mentor in both aviation and in life. They eventually invested in my training to become a helicopter pilot with commercial, CFI, CFII, and NVG ratings.
What was your first helicopter ride and your most memorable ride?
I did a helicopter tour and the whole time I was staring inside the cockpit because all the moving components to fly a helicopter were truly fascinating.
My very favorite flight was my first solo flight. I brought along my best friend and my dog, a pug named Maui, to watch from the ground. Maui watched me the whole time, and I still have the picture my friend took of her watching me land.
What advice would you give to someone pursuing your career path?
Always strive to do your very best, do not accept halfway or mediocre results, and be persistent. Never give up on yourself.
What still excites you about helicopter aviation?
Every day is different. I absolutely love watching the sunrise and the sunset from the helicopter. Every morning I watch that sunrise and I feel thankful for what I do and how lucky I am that God has brought me this far.
What challenges you about helicopter aviation?
There are many hazards in our industry and line of work, and I try to respect the machine as much as possible. A wise instructor once told me, "Take care of the aircraft and it will take care of you." But I always keep in mind that some mechanical failures are just false indicators, so I always remind myself to check for secondary indicators before I call it a failure.
Complete this sentence: I know I picked the right career when …
.. I look back at what used to only be my dream and it is now my reality. Growing up in Brazil, we lived on a farm in the country. There was an airport nearby and everyday I would eat lunch outside to just watch the planes flying over the house. They were so dynamic and unique, and I used to imagine what it would be like to fly.