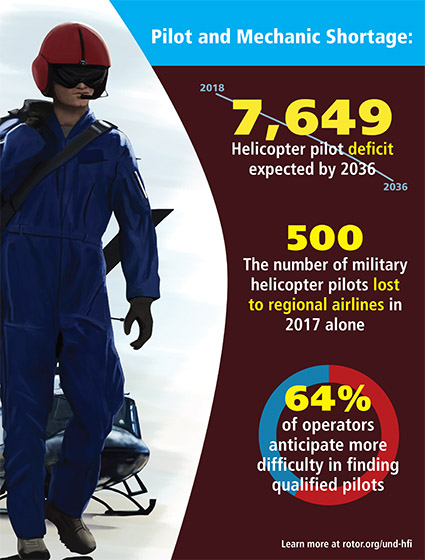 During the next 18 years, the US helicopter industry will experience a shortage of more than 7,600 pilots, according to a study conducted by the University of North Dakota (UND), in partnership with Helicopter Foundation International (HFI) and HAI. The study also projects a shortage of 40,600 aviation mechanics in the United States during the same period.
Presented at a news conference at HAI HELI-EXPO 2018 in Las Vegas, the UND-HFI Rotorcraft Pilot and Mechanic Supply Forecast confirmed industry suspicions regarding labor force trends and highlighted the need for drastic changes to ensure industry growth and viability into the future.
Compiled from a survey of 250 helicopter companies and operators and tying responses together with historical data and forecasts, including FAA records of current pilot and airframe and powerplant (A&P) licenses, the study is the most comprehensive to date focusing on the helicopter industry's labor trends. (Visit rotor.org/UND-HFI to view or download the study results and the executive summary; more study results are on pp. 54–55.)
"We commissioned this study because we wanted to provide documented proof of the shortage, not just 'heard on the street,'" says Matt Zuccaro, who is president and CEO of both HAI and HFI. "The numbers indicate we have the potential for a serious shortage. We as an industry must start addressing this issue and finding creative ways to attract and keep our workforce in the helicopter industry."
Pilot Numbers Concerning
The study identified several factors contributing to a shortfall of pilots. Since 2009, the number of newly certificated pilots has remained equal to those retiring. However, according to the study, during the next 12 years, the scale will tip, with more leaving than entering.
And some evidence of the shortage is already here. More than 50 percent of study respondents reported they had a harder time hiring pilots in the last year. Almost 54 percent believe the lack of qualified pilots will definitely or probably interfere with their ability to grow over the next five years.
The UND researchers uncovered one factor that is making an immediate impact on the number of helicopter pilots: a recent trend in hiring by regional airlines. Faced with their own workforce supply issues, the regionals are actively recruiting rotorcraft pilots to fill empty seats in their cockpits — offering steady employment with attractive pay and benefits, including a career path to the larger major airlines.
The study's authors queried three regional airlines and determined that in 2017 alone these three airlines recruited and trained more than 500 helicopter pilots to be airline pilots. There are more than 60 regional airlines operating in the United States, and the total number of transitioned pilots is undoubtedly higher.
However, the study authors noted that the effect of airline recruiting was not reflected in the study, meaning the pilot shortage projection could be much larger due to this factor alone. (Read the sidebar above to learn more about how regional airlines are aggressively recruiting helicopter pilots.)
Maintenance Numbers Alarming
For mechanics, the outlook is considerably more ominous. More than 67 percent of respondents to the survey reported current difficulties finding mechanics to employ, with more than six out of 10 respondents being forced to hire mechanics with less experience than required in the past. More than half of the respondents surveyed are concerned this difficulty to find mechanics will inhibit their companies' ability to grow and expand.
Obstacles to gaining and retaining mechanics in the industry include the cost of A&P training, entry-level pay in the helicopter industry, and competition with larger aviation companies, airlines, and even industries outside of aviation, such as automotive.
The UND study highlighted another factor in the coming competition for aviation personnel: China and India are both poised for aggressive aviation expansion, and there will likely be a corresponding need for expat pilots and mechanics from other countries. This will only add to the shortfall in numbers for both positions.
Airlines Aggressively Recruiting Rotorcraft Pilots
FAA regulations prompted by the Colgan Flight 3407 accident in February 2009 require more experience and an ATP rating for airline first officers but makes an exception for military pilots and those holding aviation degrees. At the same time, major airlines are reducing their requirements for first officers and captains. They are also taking regional pilots sooner than in the past, amplifying the staffing pressure on regionals.
Regional airlines are going outside their normal recruiting channels to look at pools of pilots who can quickly receive their ATP rating. One group that is now being targeted: helicopter pilots.
"A very real indicator of this overall pilot shortage is the aggressive campaigns by the regional airlines," Zuccaro says. "Three airlines exhibited at HAI HELI‑EXPO 2018, and another three or four recruited at the Military to Civilian Workshop the day before the exhibit floor opened. They're here offering jobs now. When you are hiring people who do not have the skills you need and you're willing to train them, it's a very real indication of a staffing issue on all levels."
Airline recruitment strategies include aggressively recruiting pilots at schools, pilot organizations, military events, and airshows. They maintain full recruitment teams, including line pilots, who are available to talk to candidates about the day-to-day of the job.
For the rotorcraft transition programs (RTP) targeting helicopter pilots, compensation ranges from $25,000 to $40,000 in training and post-completion bonuses for qualified pilots who achieve 250 hours of airplane pilot-in-command time and the FAA's restricted airline transport rating. The airlines have agreements with specific flight schools to provide the training.
Candidates are often offered transition packages that spell out exactly what training they must acquire and an approved source where they can get the training, accompanied by payment for the training and entry into a pathway program from the regional airlines to the majors. This creates an attractive offer for pilots, with a clear, lucrative, and predictable career path — something that many say the helicopter industry
lacks.
This strategy is working. Airlines are reporting several helicopter pilots in each monthly training class and those pilots are succeeding.
"I had an instructor call me to say he was very impressed with the helicopter transition pilots," says Dan Watts, PSA Airlines captain and RTP recruiter. "They are motivated, have strong translatable skills, and do very well."
Pilots talking to airline recruiters during HAI HELI‑EXPO expressed a variety of reasons for their interest. The largest factors included a desire for better pay and benefits, a regular and reliable schedule, and a sense of being appreciated. Several shared laments about regular layoffs in downturns, lack of previously expected upgrades (again because of downturns), low pay and benefits, and an overall sense of fatigue with "paying their dues" for 10 years.
Taking a page from the airline book may be an option. PSA's Watts sees this shortage as a wakeup call for all industries to become more focused on their workforce. "Making an employee feel valued is so much more than throwing money at them. The best job is the one that gives you the best quality of life, whether that's at an airline or a helicopter operator."
Drastic Changes Needed
The UND study highlights an urgent need to reevaluate how the helicopter industry develops and supports its workforce. "Unless there are some fundamental changes in policy, outreach, scholarships, and access to financing, the industry faces large-scale deficits in the amount of available and qualified licensed and certificated pilots and mechanics," the study stated.
The issues range from a lack of awareness of helicopter careers, to the struggle to move beyond low-paying entry-level jobs. For example, the study quotes one respondent as saying, "The problem with this industry is an oversaturation of jobs that require very high levels of experience and a major deficit of jobs in which pilots can build said experience."
The same is true for maintenance. Everyone wants the highly skilled pilot or mechanic with thousands of hours, yet entry-level personnel often have trouble obtaining the experience needed to fill these positions.
"The biggest obstacle is that huge hurdle and gantlet new pilots have to run to get to a viable level of experience," Zuccaro says. "I'm hearing people can't afford to support themselves as flight instructors and are stepping out of the industry before they've gained the experience they need to advance their career."
For maintenance technicians, the gap often begins with their education. "Many brand-new A&Ps have never touched a helicopter — their school only used fixed-wing aircraft — and yet we expect them to choose a career in the helicopter industry," Zuccaro says.
"Our industry needs to stop waiting for people to come to us. Yes, there will always be that guy or gal who has dreamed of helicopters since they were kids — I should know, I was one of them," he says. "But there aren't enough of them to fill our cockpits and maintenance hangars. We need to learn how to actively go out and find our workforce — and we need to ensure that the industry offers attractive, rewarding careers."
"The UND-HFI study uncovered issues that will require efforts by multiple stakeholders to resolve," says HFI Vice President Allison McKay. "But this study is a start: we've identified the problem. Now we will bring together interested parties to work on solutions. Our next step will be to hold a meeting for stakeholders, including representatives from industry, education, government, and military."
The HFI Sustainable Workforce Round Table will be held in late September 2018 in Alexandria, Virginia. Meeting participants will define core issues around workforce development and then will form working groups to create strategies and tactics aimed at building a sustainable workforce for the helicopter industry.McKay already has some volunteers; anyone wishing to take part in the round table can email her at [email protected].