Who understands our industry on Capitol Hill? They do.
According to our research, of the 435 representatives and 100 senators in the US Congress, just six have piloted a helicopter and only one has worked as an aviation maintenance technician. These men and women are literally the 1%.
These distinguished men and women include helicopter pilots Sen. Tammy Duckworth of Illinois and Reps. Ralph Abraham of Louisiana, Jack Bergman of Michigan, Scott Perry of Pennsylvania, and Chris Stewart of Utah. These legislators responded to our questions, and we feature them here.
Rep. Mickie Sherrill of New Jersey, a former US Navy helicopter pilot, was not available for comment. Rep. Denver Riggleman of Virginia, the lone congressman with experience in aviation maintenance, also could not reply. If we failed to include any other member of Congress with experience in helicopter aviation, we regret the omission.
---
Sen. Tammy Duckworth (D-Ill.) is a former US Army lieutenant colonel who has served as the junior senator for Illinois since 2017.
Duckworth attended flight school at Fort Rucker in Alabama and became one of only a handful of women to fly Black Hawk helicopters during the Iraq War. On November 12, 2004, the Black Hawk she was copiloting was attacked by Iraqi insurgents. She lost both her legs and remained hospitalized for one year.
Less than two years after the attack, Duckworth ran for an Illinois congressional seat and lost. She then became the director of the Illinois Department of Veterans Affairs and later assistant secretary of the US Department of Veterans Affairs. She won election to the House of Representatives in 2012, making history as the first woman with a disability to be elected to Congress. Later, she made history again as the first US Senator to give birth while in office.
She is an instrument-rated commercial rotorcraft pilot and has a private pilot's license for fixed-wing aircraft. However, the demands of motherhood prevent her from maintaining currency (her youngest daughter is only one year old).
Duckworth worked across the aisle with Sen. Jim Inhofe (R-Okla.) on legislation that would expand educational opportunities for students pursuing careers in aviation, protect volunteer pilots who fly for public benefit, direct the FAA to create policies and procedures around designated pilot examiners, and provide other benefits to the aviation community. The bill's provisions were included in the 2018 FAA reauthorization bill.
Another initiative included in the FAA bill was one backed by Duckworth and Sen. Susan Collins (R-Maine) that will encourage more women to choose aviation careers by offering scholarships and improving training and recruitment programs. "When I was training to become a pilot," Duckworth says, "it was rare to see another woman in my class."
Duckworth has found her aviation background to be particularly useful in Congress's investigations into the Boeing 737 MAX crashes, "especially when reviewing the flight data recorder and looking at the flight crews' execution of those procedures." Those accidents have made her examine vulnerabilities in both pilot training and aircraft certification.
"As a member of the Senate Committee on Commerce, Science, and Transportation, I am committed to conducting comprehensive oversight of the FAA Aircraft Certification Service," she says. "The recent problems with 737 MAX series aircraft raise significant concerns about the effectiveness of the current certification process for guaranteeing compliance with aircraft design and airworthiness standards.
"Our committee must also focus on the performance of the FAA Flight Standards Service. After reviewing the Flight Standardization Board differences assessment conducted for the 737 MAX series, I am deeply concerned that the FAA may need to strengthen its process for determining pilot training standards," says Duckworth. "Prior to the fatal crashes, none of the Flight Standardization Board reports examining the 737 MAX series even mentioned MCAS. Such a stunning omission indicates the need for real reform to prevent future tragedies."
Duckworth also opposes any efforts to weaken the 2013 rule that copilots for commercial airlines have at least 1,500 hours of flight time, which she feels is critical to maintain US leadership in global transportation safety.
---
Rep. Ralph Abraham (R-La.) represents the rural 5th District in northeastern and central Louisiana. In addition to being a US congressman and farmer, Abraham is a physician and veterinarian. First elected in 2014, he won his most recent reelection in 2018 and is now campaigning to become Louisiana's next governor.
After getting a degree in veterinary medicine and starting a practice (the medical degree came later), Abraham paid for flying lessons at northern Louisiana's Monroe Regional Airport (KMLU). He is rated in both fixed-wing and rotary aircraft and is a CFII.
Today, he flies a Cirrus SR22 and a Eurocopter EC120B. "I fly as often as possible. I am most at peace up in the clouds, and it is also a great way to travel the district and the state," he says.
What did being a pilot teach Abraham about life? "As a pilot, I learned no mistakes are acceptable because your life can depend on correct choices," he told the Civil Air Patrol's Volunteer magazine in 2017.
Abraham is a member of the House General Aviation Caucus, a group of members who support and promote general aviation as an important part of the nation's transportation system. He describes the caucus as the "tip of the spear" on aviation issues that come before Congress.
"I wanted to be in a position to work with the government to preserve the integrity of our national airspace but also to be a watchdog to keep the government from encroaching on the rights of private citizens who fly," he says, explaining why he joined the caucus. His aviation experience made him a vocal opponent of the 2017 effort to privatize the US air traffic control system.
Abraham flies reconnaissance missions for the Coast Guard Auxiliary. As a colonel in the US Air Force's civilian auxiliary, the Civil Air Patrol (CAP), he is a mission pilot for its Green Flag Program, where civilian pilots play the part of low-flying enemy aircraft in Air Force training exercises. "My Civil Air Patrol experience has allowed me to highlight the military-civilian pilot partnership that helps our active-duty pilots train, so they can better do their jobs and keep this nation safe," Abraham says.
Last October, Congress passed the 2018 FAA reauthorization bill, which authorized grants for projects that support the education and recruitment of aviation maintenance technicians as one way to address the aviation workforce shortage. Abraham is one of several members currently tracking the FAA's implementation of the program and working with the administration to make sure it has the funding it needs.
He encourages young people to pursue their aviation dreams. "I am concerned about the lack of diversity in aviation, so I recommend that women and minorities take up flying. It's a great experience, and there's never been a better time to get into aviation."
Asked for some favorite flying stories, Abraham provides perspective instead. "The best flights are the uneventful ones with your family where you all arrive safely," he says, "and the most rewarding ones are the CAP search-and-rescue missions that have happy outcomes."
---
Rep. Jack Bergman won election in 2016 to represent Michigan's 1st congressional district, which covers the Upper Peninsula. He is a former military aviator, a pilot for Northwest Airlines, and the owner of a medical equipment company. A retired three-star general in the US Marine Corps, Bergman is the highest-ranking military officer ever elected to Congress.
On why he became a pilot: "I chose to become a marine first, and the Marine Corps introduced me to the possibility of aviation. I didn't know how much I loved it until I tried it."
After getting his wings in June of 1970, Bergman chose the CH-46 Sea Knight as his primary platform to transition to. He served as a naval aviator in Okinawa, was deployed to Vietnam starting in the fall of 1971, and later served in Pensacola, training students in the North American T-28.
After leaving active duty in 1975, Bergman flew Hueys for the Rhode Island National Guard and later, C-130s for the Marine Corps Reserve. As commander of the 4th Marine Aircraft Wing, Bergman says, "I got a chance to fly everything we owned, which was F-18s, CH-53s, CH-46s, Cobras, Hueys," As a commercial airline pilot, he flew DC-9s, DC-10s, Airbus A320s, and Boeing 757s. His total flight time is more than 16,000 hours.
Bergman still has a current license but now generally flies with friends, taking the co-pilot seat. "I'm a good copilot these days because safety is first. And when you're the pilot in command, you have to be concentrating on that."
Bergman says his aviation background has influenced his legislative work. "Flying is a constant state of correction. We are always adjusting our power settings, our heading, we're revising our flight plan as necessary," he says. "The organizational skills that I have developed as captain of an airliner and the commander of a military aircraft help me to, No. 1, prioritize activities and legislation. And No. 2, to sense when we, as the federal government, need to make corrections. And the sooner you make corrections, the smaller the corrections have to be."
A member of the House General Aviation Caucus, Bergman thinks it's important for Congress to balance the rights of commercial, military, and general-aviation fliers. "We need to ensure that there is always a balance of aviation opportunity. General aviation and commercial aviation and military aviation all coexist, utilizing the same airspace at times, utilizing the same air traffic control facilities, utilizing the same fuel supplies. We need to keep three robust areas working together."
Bergman is also interested in promoting the development of the aviation workforce. "We need to create a pathway for the young boys and girls and men and women to achieve the skill sets and the certifications necessary to do the maintenance and the flying and all those things that go along with a healthy, robust, forward-thinking aviation enterprise."
Asked to tell one of his many aviation stories, Bergman shared this one about some ultra-realistic training he received during one of his captain's checkout flight at Northwest Airlines. On takeoff, a bird was sucked into one of the engines of a Convair 580. "That bird was in the wrong place at the wrong time," says Bergman. "We watched the RPM go down and come right back up as it cooked that bird in a heartbeat."
The power came back, but Bergman made a precautionary landing so the aircraft could be checked out. "The passengers never knew anything had gone wrong, but it was a unique checkout experience. I complimented my instructor on the realistic training he gave."
---
Rep. Scott Perry (R-Pa.) represents Pennsylvania's 10th congressional district, which includes Harrisburg and York. He was first elected to Congress in 2013.
After graduating high school in 1980, Perry enlisted in the Pennsylvania Army National Guard. In 1986, he learned to fly helicopters at Fort Rucker and was the honor graduate in his class. "As a child, I had dreamed of become an aviator, but I knew I certainly couldn't afford it," he says. "The army provided the opportunity, and it's also where I gained the self-confidence needed to successfully complete the training."
He flew nearly every aircraft in the army's rotary-wing inventory: the UH-1 Huey, OH-6 Loach, AH-1 Cobra, OH-58 Kiowa, UH-60 Black Hawk, AH-64 Apache, and CH-47 Chinook. Perry retired from service in March of this year with the rank of brigadier general and a military resume that includes a Bronze Star and flying 44 combat missions in Iraq. He holds a commercial rotary-wing instrument rating but does not currently fly.
Perry offers this perspective on how his aviation training influences his day-to-day work in Congress: "Flight training requires continuous concentration, repetition, and patience to gain and maintain proficiency. Working in Congress requires the same skill set to accomplish successful legislative outcomes. Few people learn to fly in a day; likewise, few people solve the nation's problems in a day."
A member of the General Aviation Caucus, Perry says government tends to focus on commercial aviation. "It's important that policymakers familiar with general aviation be vocal champions, lest the basic needs of this critical aviation component be ignored or left to atrophy," he says. He is a strong advocate of ensuring that every airport remains operational.
Perry serves on the House Aviation Subcommittee and was "deeply involved" in the 2018 FAA reauthorization bill. He points to several provisions of the bill as being "positive steps in the right direction for industry," including the funding for aviation workforce development, authorizing a review of the effectiveness of Part 23 rules, and improvements in aircraft certification.
"Looking forward, I am particularly concerned about the fallout of the 737 MAX crashes and the implications this may have on the certification process," says Perry. "Timely access to the certification process for all participants is key to driving competition and improving safety. The implications of any proposed changes must be thoroughly analyzed and given due consideration. While safety remains the top priority, it is vital that we don't impose an unworkable system in the aftermath of these terrible events."
Perry is also involved in issues of drone integration. "As a rotary-wing aviator, I've taken a leading role on how unmanned aircraft systems interact with manned aircraft in the low-altitude airspace."
As an Army Master Aviator, Perry has his share of stories. They range from losing the position of another aircraft one dark night in Iraq—and suddenly finding it, a little too close for comfort, he says. "Swift action on the controls prevented an in-air collision."
But he also remembers slipping under a low-hanging cloud layer and onto a runway at sunrise "when the air was as still as a frozen lake. All in all, I miss flying and wouldn't trade a moment of it for anything."
---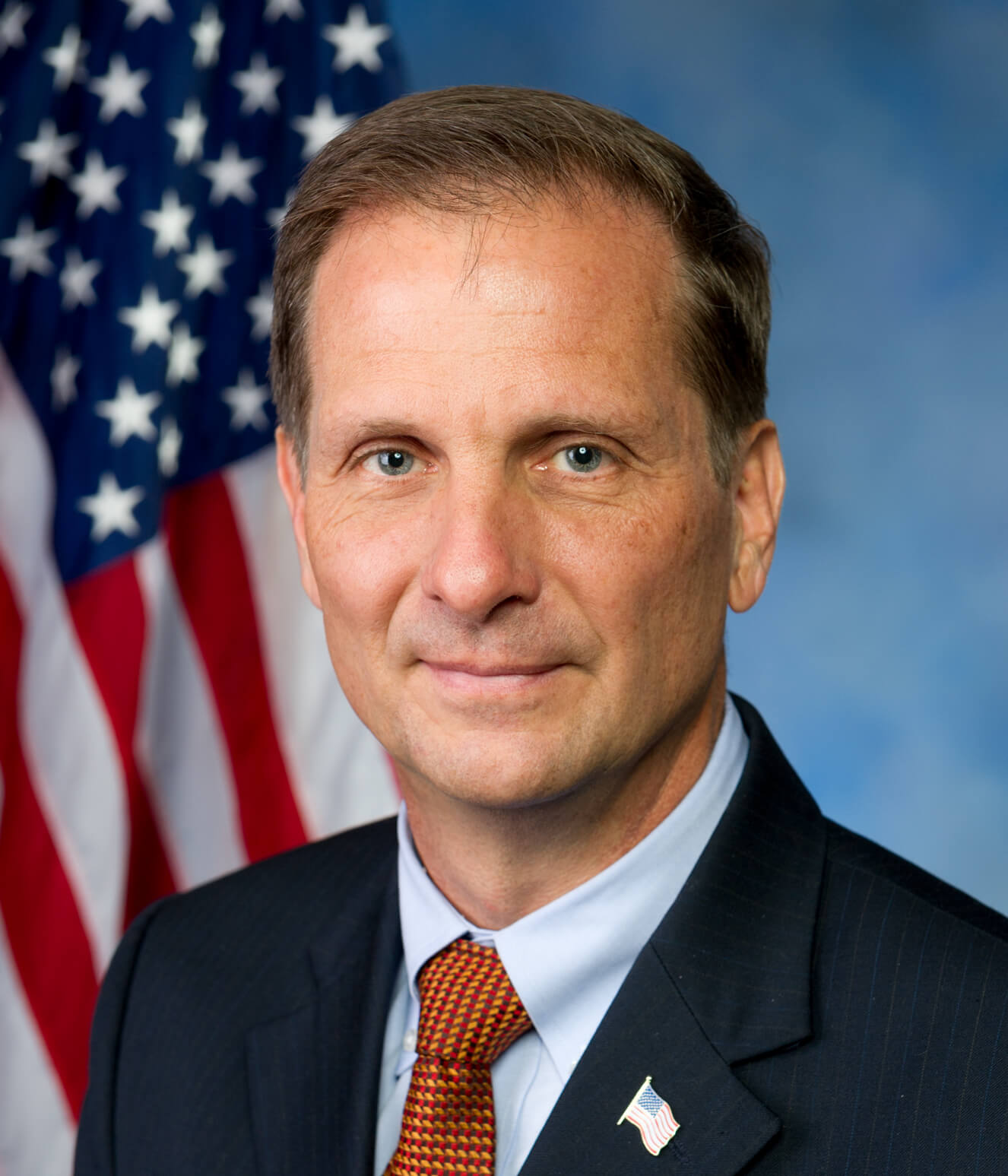 Rep. Chris Stewart (R) won reelection on November 6, 2018, to Utah's 2nd congressional district, which includes Salt Lake City and rural western and southern portions of the state. First elected in 2012, he is a bestselling author and businessman.
Stewart comes from a background of military service and aviation. "Every day I proudly wear a set of wings my father wore as a pilot in World War II," he says. In a family with six sons, Stewart and four of his brothers served in the military. One of his older brothers is also a helicopter pilot, flying combat rescue missions for the US Air Force.
After college, Stewart joined the Air Force, where he graduated at the top of his class in both officer training school and undergraduate pilot training. He served for 14 years, becoming qualified in the T-38 trainer, the B-1 bomber, and the twin engine UH-1N helicopter. He was stationed at Dyess Air Force Base and Mountain Home Air Force Base, among others. His flight time of about 3,800 hours is split evenly between helicopters and jets.
In 1995, Stewart was part of a team that was awarded the Air Force's Mackay Trophy for "most meritorious flight of the year." The mission required a team of Rockwell B-1 Lancers to fly nonstop around the world, successfully bombing targets in three different bombing ranges on three continents. The 20,100-mile trip required six midair refuelings and was accomplished in 36 hours and 13 minutes, setting a speed record for the fastest nonstop flight around the world.
Asked what elements of flight training he is putting to good use in Congress, Stewart says, "Keeping your cool. Not overreacting. Keeping emotions intact. In such a hyperpolitical time, this has served me well."
A member of the House General Aviation Caucus, Stewart has worked on many bills that support aviation, including Open Skies agreements that encourage market liberalization in the airline industry. He supports training eligible flight crew members to use firearms in the event of air piracy and cockpit hardening to ensure pilot safety. He also supports ensuring that military pilots have access to further pilot training after their military service.